The best cheap smartwatches you can find in 2022, the below-listed smartwatches are one of the best based on their features, build quality, and most importantly their price.
The best cheap smartwatches are great handy tools on your wrist to stay connected to the internet, stay updated, track your calories, and much more without spending too much on them.
The brands may launch the updated versions of the listed smartwatches, so do check out for their updated models, however, the price will obviously increase with the increased features in the updated model.
But, most brands do not include many features and mostly instead provide you with different colors, different designs, and different screen sizes in the updated models.
You need not pay extra dollars for such tiny updates, if you are budget conscious, you can go with the older versions with maybe limited color variants and a bit smaller screen size.
Note: The "Buy Here" button contains the link to the store from which we have aggregated our data and on which our article is based upon. The price and the specs are listed here according to the price and specs we have found online on either the official store of the brand or from E-commerce websites. You may encounter similar models from the brands with different specs and prices on their official websites, or Amazon-like e-commerce sites.
1. Apple Watch Series 3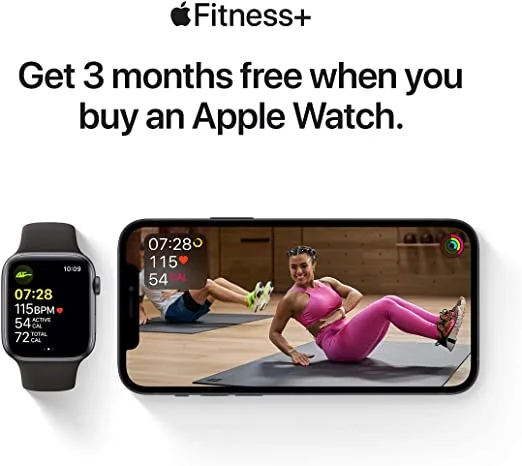 If you are an iPhone owner and in love with Apple products, the first pick for you should be a smartwatch by the Apple brand.
Apple smartwatch pricing starts from $199 and goes over $400, I personally would never go over $200 for a smartwatch, but considering the fact that it's a brand loved widely by people all across the globe.
No matter what the pricing is – Apple brand lovers around the world still buy it for prestige. Along with the prestige of using an expensive brand, apple also has amazing features that make it feel worth the price.
Apple ain't just a brand that is hyped just because celebrities promote it and its expensive pricing makes it difficult to acquire. Apple products are worth their price.
Enough talk about the brand, let's talk about the Apple Watch Series 3 now.
The Apple Watch 3 comes with two different variants – one with just GPS and another with cellular connectivity.
This smartwatch is one of the best if you are planning to use it for your fitness tracking activity and also want a long-lasting battery.
Apple Watch 3 comes with a water-resistant casing if your fitness routine involves swimming. Its run and cycle tracking features are on board, and it also comes with a heart rate monitor like most of the smartwatches out there.
Pros
Good smartwatch battery life
Clear, bright screen
Fantastic fitness features
Cons
Only iPhone compatible
Siri still patchy
High price for 4G model
The apple watch may not be a good pick for many people, since it's only compatible with an iPhone and not quite suits the term 'cheap'. So let's move on to affordable ones without compromising on quality.
Note: There can be slight variations in the price of the items and the features it provides as the brands keep bringing updates, new versions and features.
2. Amazfit GTS 2 Mini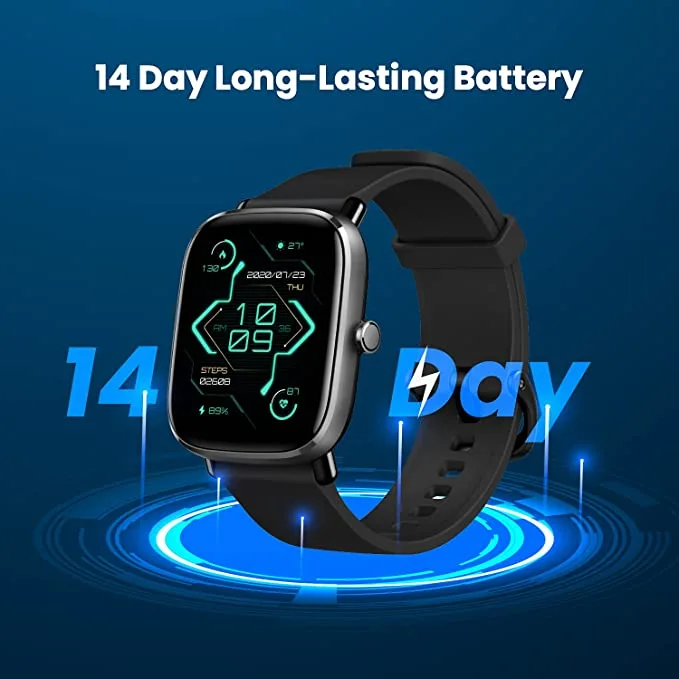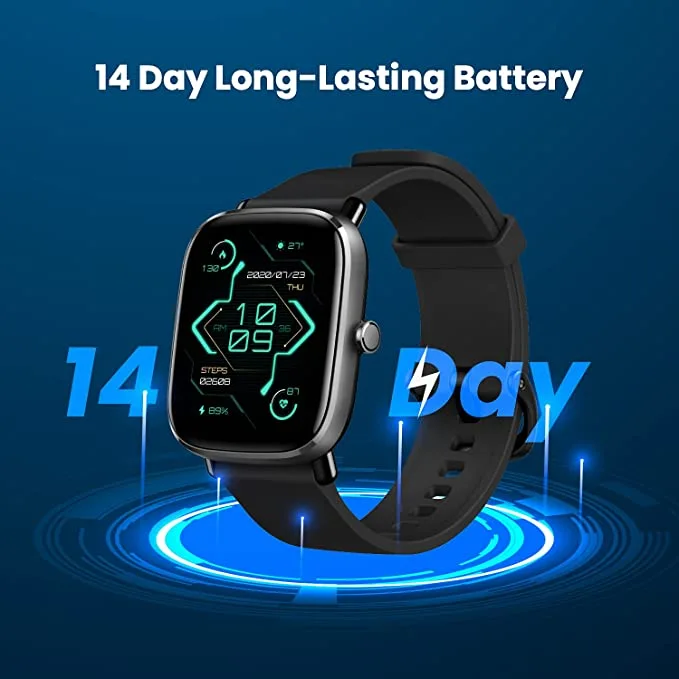 The Amazfit GTS 2 Mini is built by a Chinese wearable maker brand – Zepp Health. Amazfit GTS 2 is available on Amazon.com for $99 or £79 in Europe.
The Amazon listing claims it has a battery life of 14 days, which is quite amazing, you don't want to keep charging your smartwatch every now and then, it becomes frustrating.
However, do not expect it to run for exactly 14 days, the battery life will always be lesser than what's claimed by any brand. The battery life of any device mostly depends on how a user operates the device which obviously differs from individual to individual.
It has almost all the major features of a smartwatch, such as various fitness tracking modes, and a heart rate monitor, along with all this it has an AMOLED screen, which makes it look smooth and I personally prefer AMOLED displays because they make the device look bright and clean.
Amazfit GTS 2 Mini claimes to have over 70+ sports modes. You can also use the Strava app since Amazfit GTS 2 Mini also has a support feature for third-party APIs.
Strava is another brand mostly used for running and cycling, what makes Strava special is its social networking feature. You can learn more about it here.
The best part about this smartwatch is – it is compatible with both iPhone and Android smartphones. If you have an iPhone and looking for a cheaper alternative to Apple smartwatches, you should go for this one.
Amazfit GTS 2 Mini key features
iPhone and Android
40mm
1.55 inch, AMOLED
GPS
14-day battery life
2. Redmi Watch 2 Lite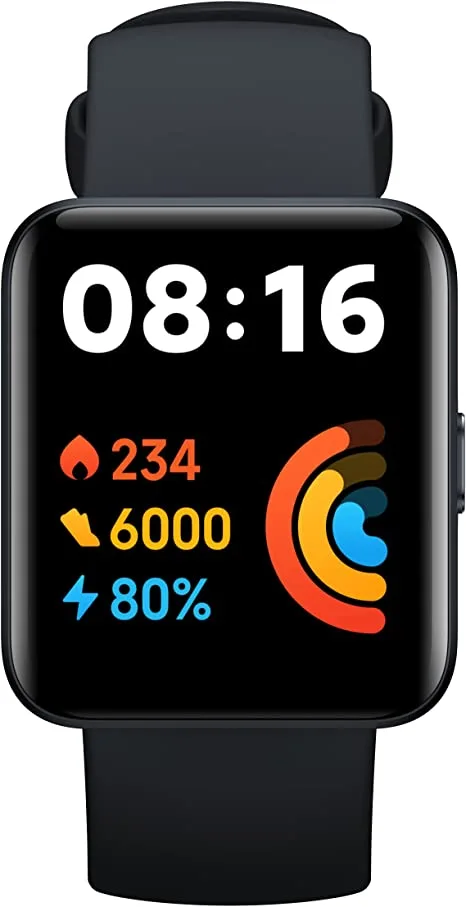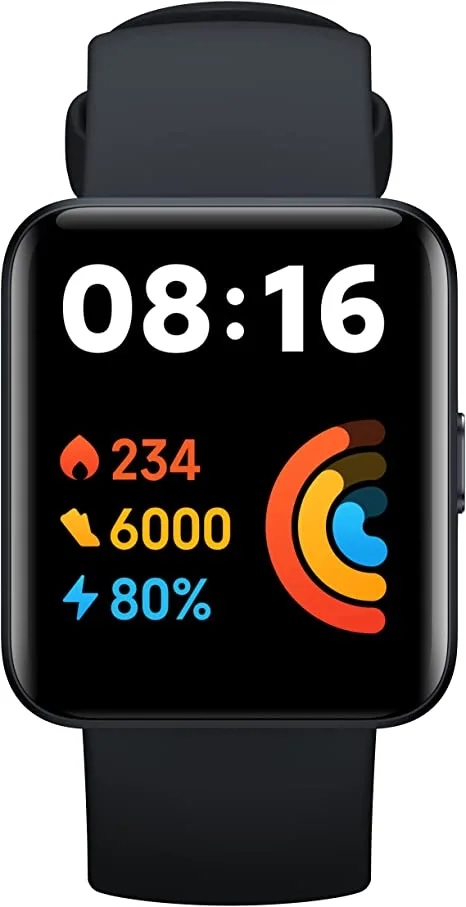 A square smartwatch built by the Redmi brand which is a subsidiary company of the Chinese electronics company Xiaomi.
Redmi Watch 2 Lite offers a strong set of features for both iPhone and Android users.
Let's talk about its design now, it looks a bit similar to the Xiaomi Mi Watch Lite. Redmi Watch 2 Lite offers a display of 1.5inch, 320×360 TFT with a 41mm matte plastic case. The display is quite fine when it comes to its responsiveness.
Let's talk about the smartwatch features now – like most smartwatches, you are getting notifications, you can control music playing on your connected phone, and also view weather updates, which I never do in my Redmi Smartwatch.
I wanted to buy a smartwatch just for tracking my fitness progress and this Redmi Watch 2 Lite is great at tracking fitness activity, you get a heart rate monitor ( I still don't know what's its use ), and not only that but also a blood oxygen monitoring ( These features are useless to me ) and GPS support.
The useful feature of the heart rate monitor in this smartwatch is – it tracks your heart rate 24-hours a day and sends an alert when an abnormal heart rate is detected.
I don't know its practical use again, but it sounds like it could be very helpful for many people who are diagnosed with any health issues.
The one that fascinates me the most in this smartwatch is its water-resistance feature. The listing on Amazon claims 5 ATM water resistance – which means you can take it up to 50m under the water, this smartwatch should be able to withstand that much under water pressure.
Redmi Watch 2 Lite key features
iPhone and Android
41mm case
1.5-inch, 320×360 TFT
GPS
10 days (5 days of heavy use)
This is all in this article on Fijock.com. If you have any questions or want to appreciate our work, please use the comment section below.
Also, do check out the product pages by clicking on the 'Buy Here' button to better understand the specs of all of the listed smartwatches.
Don't worry, we aren't trying to sell you anything and make an affiliate commission doing that, there are no affiliate links in this article.
Fijock.com is focused to become a trustworthy brand by helping people, and providing them right and useful information.