As the leaves turn to shades of red and gold, and a slight chill fills the evening air, there's nothing quite like a warm, comforting meal to soothe your soul.
Fall is the season of cozy dinners, and one dish that epitomizes comfort and flavor is Chicken Cobbler.
Today, we'll explore this simple yet delectable dish that will have your taste buds dancing and your heart feeling all warm and fuzzy.
What is Chicken Cobbler?
Let's start with the basics. Chicken Cobbler is a classic American dish that combines tender, succulent chicken and an assortment of hearty vegetables, all nestled beneath a fluffy, golden-brown biscuit topping.
It's a one-pan wonder that's perfect for autumn evenings when you're craving something filling and satisfying.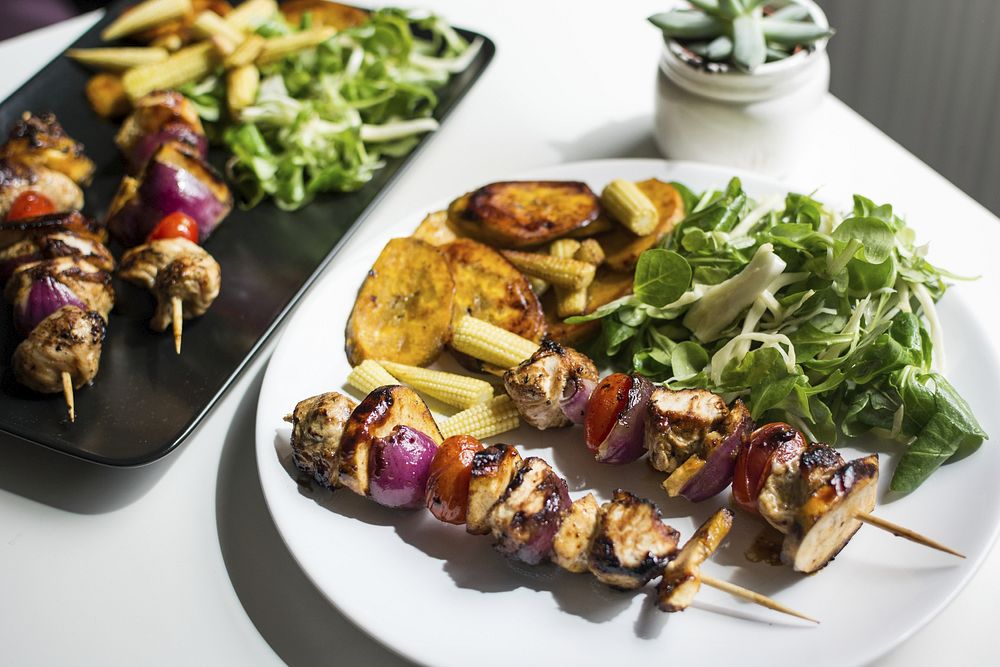 Ingredients You'll Need
2 lbs of boneless, skinless chicken breasts or thighs
2 cups of mixed vegetables (carrots, peas, corn, and green beans work great)
1 onion, finely chopped
2 cloves of garlic, minced
2 cups of chicken broth
1 cup of milk
1/4 cup of all-purpose flour
2 tsp of thyme
Salt and pepper to taste
For the biscuit topping:
2 cups of all-purpose flour
2 tsp of baking powder
1/2 tsp of salt
1/2 cup of cold butter, cubed
3/4 cup of milk
How to Make Chicken Cobbler
Prepare the Chicken: Start by cutting the chicken into bite-sized pieces.
Season them with a pinch of salt and pepper.
Sear the Chicken: Heat a large skillet over medium-high heat and add a bit of oil.
Sear the chicken pieces until they turn golden brown. Once done, remove them from the skillet and set them aside.
Cook the Vegetables: In the same skillet, add the chopped onion and minced garlic.
Sauté them until they become fragrant and translucent.
Then, add the mixed vegetables and cook for a few minutes until they start to soften.
Create the Gravy: Sprinkle the flour over the vegetable mixture, stirring constantly for about a minute.
Gradually pour in the chicken broth and milk while stirring.
Allow the mixture to thicken into a rich, creamy gravy.
Season and Add the Chicken: Add the seared chicken back to the skillet and season with thyme, salt, and pepper.
Let it simmer for a few minutes, allowing all the flavors to meld together.
Prepare the Biscuit Topping: In a separate bowl, mix the flour, baking powder, and salt.
Cut in the cold, cubed butter until the mixture resembles coarse crumbs.
Then, stir in the milk until a soft dough forms.
Assemble and Bake: Drop spoonfuls of the biscuit dough onto the chicken mixture in the skillet.
Place the skillet in a preheated oven at 375°F (190°C) and bake for about 25-30 minutes or until the biscuits are golden brown and the filling is bubbly.
Why You'll Love Chicken Cobbler
Simplicity: Chicken Cobbler is a one-pan dish that doesn't require fancy techniques or equipment.
You can make it even if you're not a seasoned chef.
Flavorful: The combination of tender chicken, creamy gravy, and fluffy biscuits creates a symphony of flavors that will delight your taste buds.
Versatility: You can customize Chicken Cobbler to suit your preferences.
Swap out vegetables or herbs, or add some cheese to the biscuits for an extra layer of goodness.
Comfort in Every Bite: There's something undeniably comforting about digging into a warm, steaming plate of Chicken Cobbler on a crisp fall evening.
It's like a culinary hug for your soul.
Perfect for Leftovers: If you have any leftovers, Chicken Cobbler tastes even better the next day as the flavors continue to meld.
Just reheat and enjoy!
Fall Flavors in Every Bite
The moment you take your first bite of Chicken Cobbler, you'll be transported to a cozy autumn evening by the fireplace.
The tender chicken, the rich, savory gravy, and the buttery, flaky biscuits all come together to create a dish that embodies the essence of fall.
It's a delightful medley of flavors and textures that will warm you from the inside out.
Cozy Evenings with Loved Ones
Chicken Cobbler is the perfect dish to share with family and friends on a cool fall evening.
It's a meal that brings people together, whether you're enjoying it at the kitchen table or gathered around a campfire.
The simple preparation and hearty portions make it a go-to choice for a comforting dinner that everyone can savor.
Conclusion
In the realm of fall comfort food, Chicken Cobbler reigns supreme.
Its simple preparation, rich flavors, and warm, cozy feel make it a favorite during the cooler months.
So, gather your loved ones, fire up the oven, and indulge in a delicious, homey meal that will make your heart sing.
Chicken Cobbler is the epitome of a cozy fall dinner, and it's waiting to be savored at your dinner table tonight.