If you're someone who has a sweet tooth or loves baking, then you're in for a treat!
In this article, we're going to explore the delightful world of Cinnamon Rolls with Peach Cobbler.
This combination of flavors is like a warm hug for your taste buds.
Whether you're an experienced baker or just getting started in the kitchen, this easy-to-follow recipe will have you making delectable treats in no time.
Cinnamon Rolls: A Classic Delight
Before we dive into the perfect pairing, let's start with the basics: Cinnamon Rolls.
These sweet, spiral pastries have been a favorite breakfast and snack option for generations.
Their warm, gooey centers and cinnamon-spiced aroma make them a comfort food like no other.
Making cinnamon rolls from scratch may sound intimidating, but it's easier than you think. To get started, you'll need:
Ingredients:
2 ¼ teaspoons of active dry yeast
1 cup of warm milk
½ cup of granulated sugar
⅓ cup of unsalted butter (softened)
1 teaspoon of salt
2 large eggs
4 cups of all-purpose flour
⅓ cup of softened butter (for the filling)
1 cup of brown sugar (for the filling)
2 ½ tablespoons of ground cinnamon (for the filling)
1 cup of powdered sugar
1 teaspoon of vanilla extract
2-3 tablespoons of milk (for the glaze)
Instructions:
In a bowl, dissolve the yeast in warm milk and let it sit for about 10 minutes until it's frothy.
In a separate bowl, mix the sugar, softened butter, salt, and eggs.
Add the yeast mixture and flour to the sugar mixture, and knead until you have a soft, smooth dough.
Cover the dough and let it rise for about 1 hour until it doubles in size.
Roll out the dough into a 16×21-inch rectangle.
Spread the softened butter over the dough and sprinkle the brown sugar and cinnamon.
Roll up the dough tightly and cut into 12 even slices.
Place the rolls in a greased 9×13-inch baking pan and let them rise for an additional 30 minutes.
Preheat your oven to 350°F (175°C) and bake the rolls for 25-30 minutes until they're golden brown.
While the rolls cool, mix powdered sugar, vanilla extract, and enough milk to make a thick glaze. Drizzle this over your warm cinnamon rolls.
Now, your cinnamon rolls are ready to go, but let's take this a step further and pair them with something extra special.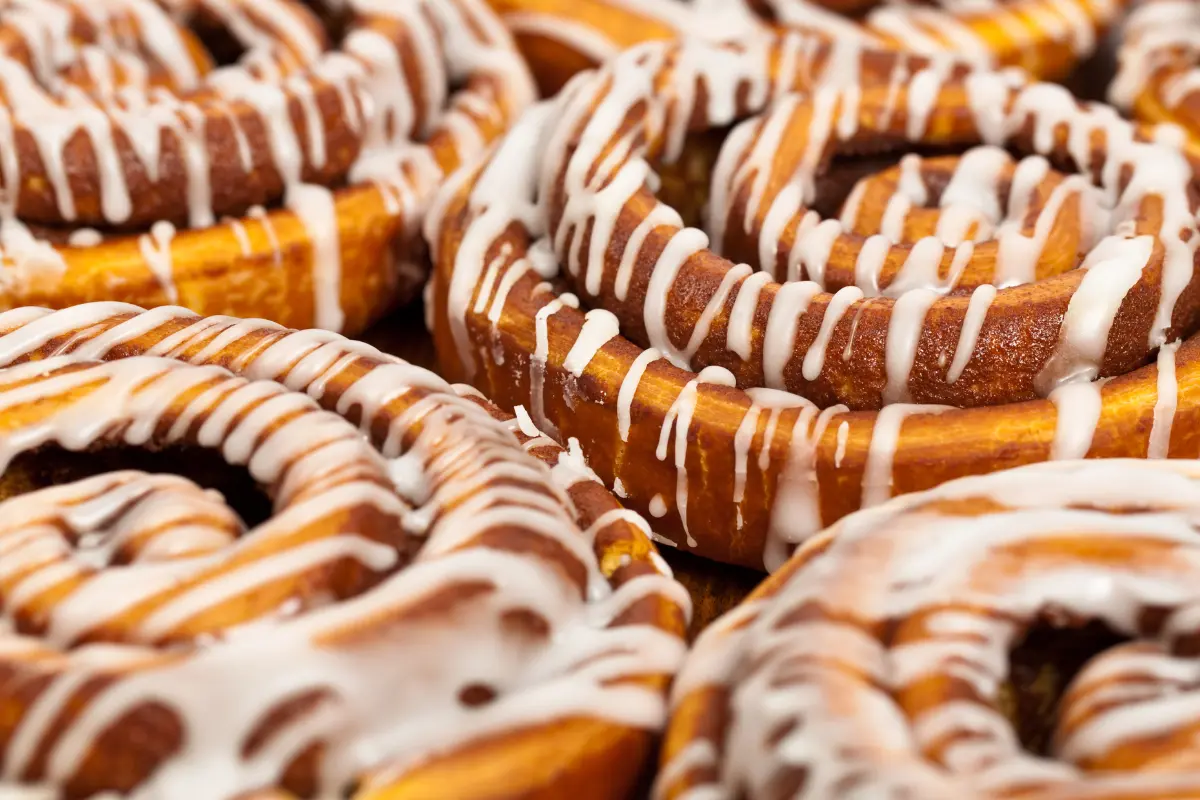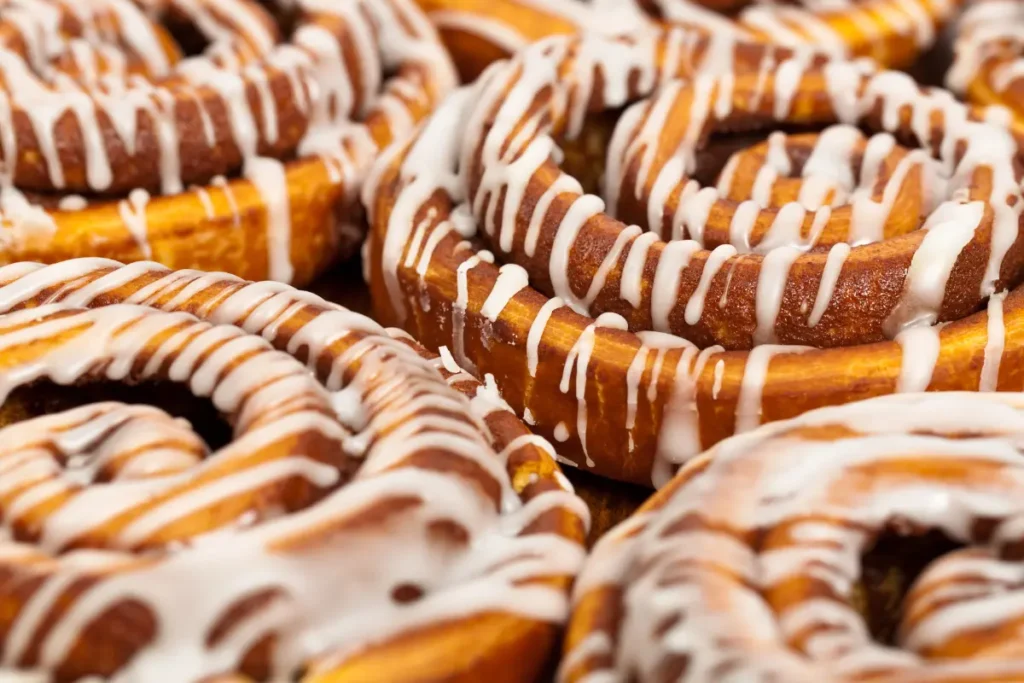 Peach Cobbler: A Southern Classic
Peach Cobbler is a classic dessert that brings a taste of the South right to your kitchen.
The sweet, juicy peaches combined with a golden, buttery crust create a dessert that's simply irresistible.
For this delightful Peach Cobbler, you'll need:
Ingredients:
4 cups of sliced peaches (fresh or canned)
1 cup of all-purpose flour
1 cup of granulated sugar
1 teaspoon of baking powder
A pinch of salt
1 cup of milk
½ cup of unsalted butter
Instructions:
Preheat your oven to 325°F (160°C).
Melt the butter in a 9×13-inch baking dish.
In a separate bowl, mix the flour, sugar, baking powder, and salt.
Stir in the milk until the batter is smooth.
Pour the batter over the melted butter in the baking dish, but do not stir.
Spread the sliced peaches (with their syrup) over the batter. Again, do not stir.
Bake for about 55-60 minutes or until the top is golden brown.
Serve the peach cobbler warm, ideally with a scoop of vanilla ice cream on top for an extra treat.
The Perfect Pair: Cinnamon Rolls with Peach Cobbler
Now that you have your freshly baked cinnamon rolls and warm peach cobbler, it's time to combine these two delicious treats for a match made in dessert heaven.
The rich and gooey cinnamon rolls complement the sweet and fruity cobbler perfectly.
The warmth of the cinnamon rolls, with their soft, sweet centers, pairs wonderfully with the tender peaches and golden, buttery crust of the cobbler.
This combination is perfect for a weekend brunch, a special occasion, or just to treat yourself.
The contrasting textures and flavors create a symphony for your taste buds that you won't soon forget.
The great thing about this pairing is that it's not overly complicated.
You don't need to be a professional baker to enjoy these delightful treats.
With a little time and effort, you can make these delicious goodies and impress your family and friends.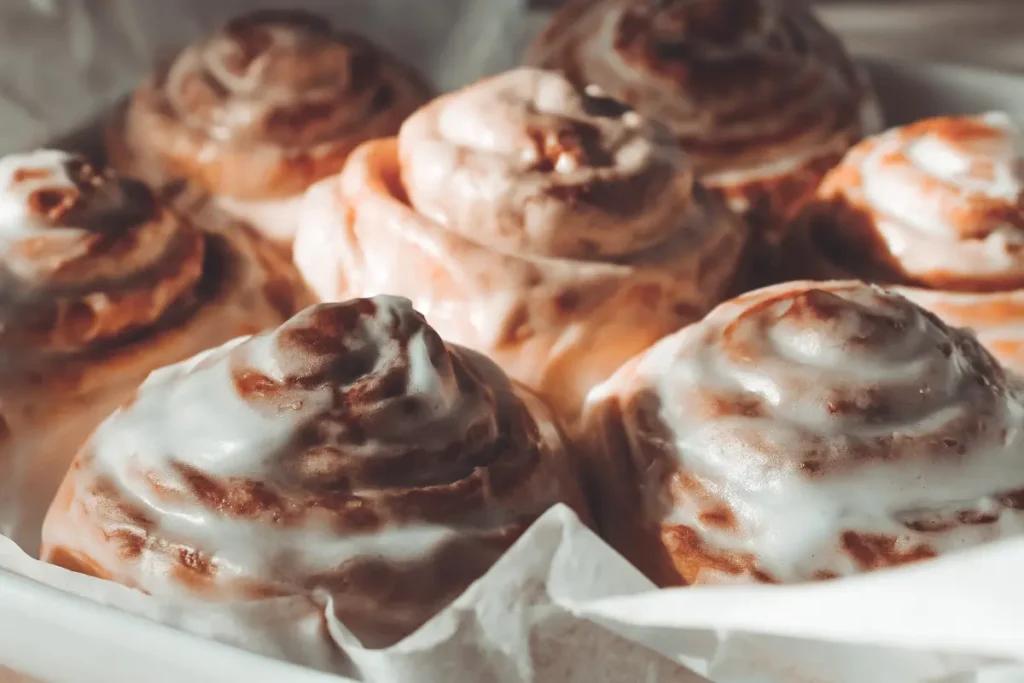 In Conclusion
Cinnamon Rolls with Peach Cobbler is a match made in dessert heaven.
It's a sweet and satisfying combination that brings warmth and comfort to your table.
These classic recipes are easy to follow, and the results are absolutely worth it.
So why not roll up your sleeves, preheat your oven, and start baking?
Whether you're enjoying them on a lazy Sunday morning or sharing them with loved ones, these delightful treats will bring smiles and satisfaction all around.
Enjoy the sweet, comforting taste of Cinnamon Rolls with Peach Cobbler and make your kitchen the heart of your home.